AP Coordinator Responsibilities
Communicating with Students, Parents, Teachers, and Proctors
Responsibility
School staff must effectively communicate their AP processes, registration status, schedules, room assignments, etc. with students, parents, teachers, and proctors.
Why?
Ensure that all AP stakeholders understand the process, deadlines, expectations, schedule, etc.
Ensure all students can take the exams they desire
Reduce confusion and stress
Implementation
There are a couple of ways that schools commonly communicate all the essential information to families:
Have the classroom teachers share the information with students in class.
Use email, school website, and newsletters to communicate directly with families, teachers, and proctors.
In addition to general exam day information, schools will communicate each students' unique information (exam schedule, room assignments, balance due, etc) to both the student and the student's guardian.
Challenges
Using Teachers

Teachers have a lot on their plate and often forget to share communications. Sometimes teachers do not feel the particular messages are essential.
Coordinators cannot control the message or the timing.
If a student is absent, they may miss crucial communication.

Email families directly

Creating various email lists is time-consuming.
Sending personalized emails, e.g., student's individual, exam schedule with room assignments, student's balance due, etc., is complicated and tedious.
Simplification
Total Registration (TR) has developed a myriad of tools for AP Coordinators to communicate directly with students, parents, teachers, and proctors at the click of a button.
A Better Way
Send emails and texts at the click of a button.
Communicate to a wide variety of different lists.
Lists are created automatically by the system.
Send communications with information unique to all students at the click of a button.
The first column below contains a list of some of the emails that can be sent through TR. The following two columns are the lists available under "Email/Text Particular Students/Teachers/Proctors".
Email/Text Particular Students/Teachers/Proctors
Balance Due Email
Email Teachers Rosters
Email Proctor Assignments
Remind Students Email Used in Past
Email Exam Day Schedule to Students
Email students who indicated they are in an AP course but not the AP exam
Email Students Their AP ID
All Students
In a particular Grade Level
Taking a Particular Exam
Alternate Exams
Dropped/Canceled Exams
Students w/Pending Cancellation Requests
Students w/More Than One Exam on a Day
Paid in Full
Are Non-Students (Non-Attenders)
Registered Before/After a Particular Date
Free/Reduced Lunch Students
Responded to a Custom Quest. in a Particular Way
Standard Question Report
Students with Accommodations
Students Pending F/R Approval
All AP Teachers linked to an exam
All Proctors Assigned to an exam/room
Many of TR's communication tools allow schools to send an email to a group of students, with each student receiving a unique email. AP Coordinators even can elect to have a draft of each email with a list of the recipients set to them. For example, this is how schools using TR send a Balance Due email to only students with a balance due, providing each student's specific balance: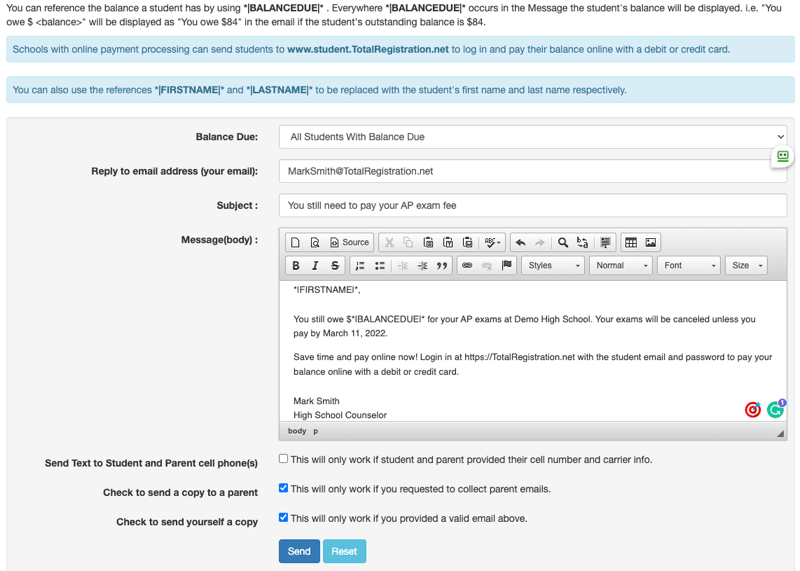 The utility above sends all students a personalized email. For example, below is an email a student received: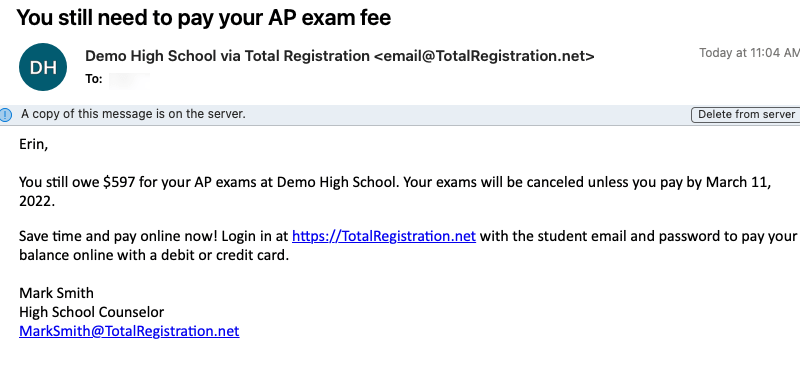 Another example is TR's "Email Exam Day Schedule to Students" utility which sends each student their individual schedule plus any information schools want to include, such as expectations, what to bring to the test, what is permitted in the testing room, etc. This will even include the student's assigned rooms if the school used TR's room assignment functionality. Here's a screenshot of composing this email to all students: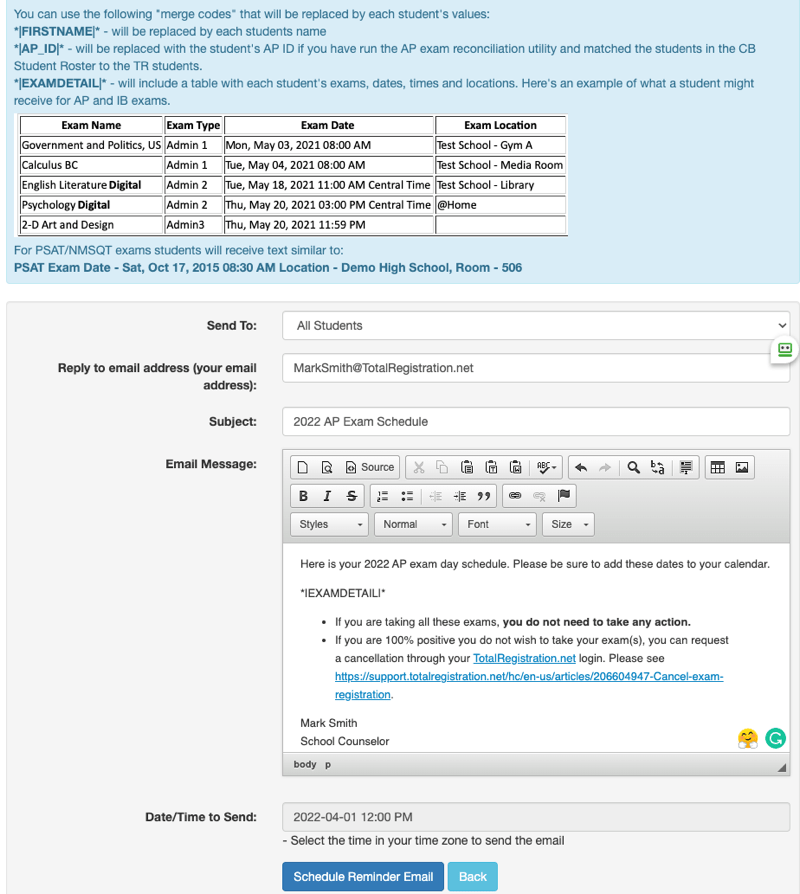 Below is an example of a personalized schedule a student receives: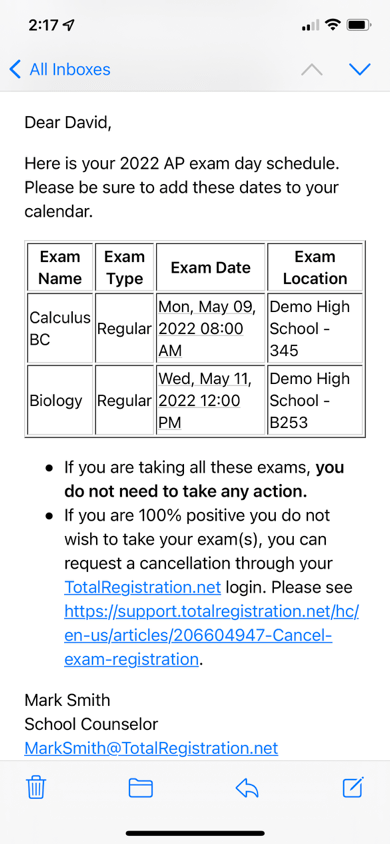 The final example is TR's utility, which emails all proctors their individualized assignments as a PDF. This includes the date, time, exam, number of students, and the location/room. Below is an example of the utility to compose this message. As with all the other communication utilities, schools have complete control over the body of the email: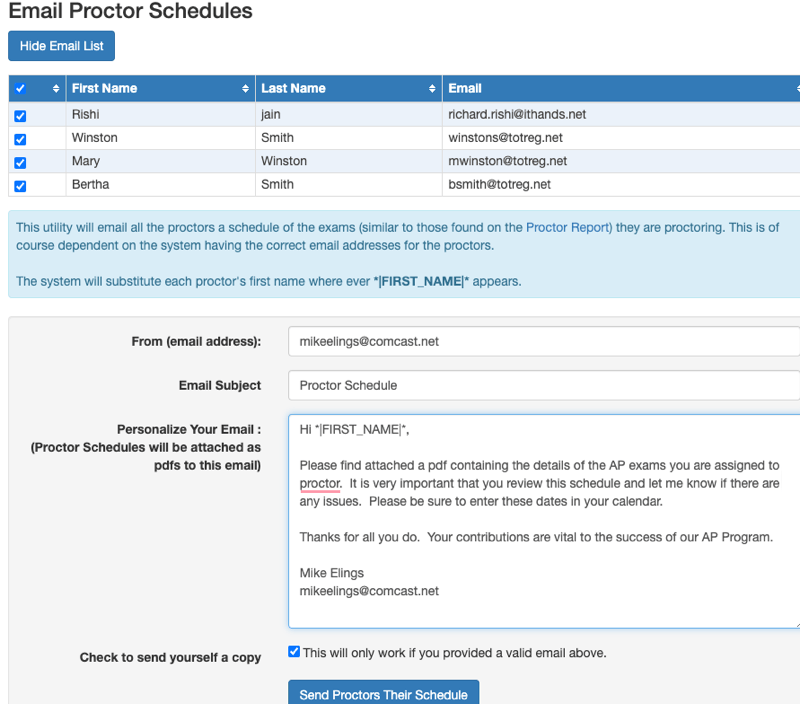 Below is an example of a personalized AP Exam schedule a proctor receives: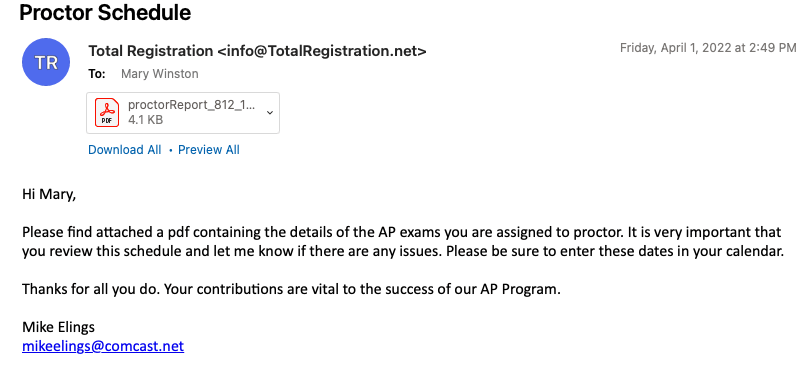 The final screenshot is the PDF that the proctor received as an attachment to the email: